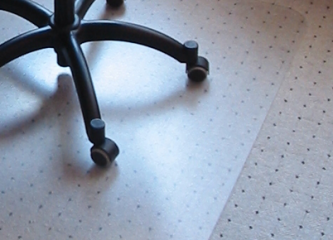 Protective mats under chairs and armchairs are used in places where the floor is exposed to especially adverse conditions. Damage of the decorative layer of the floor is often caused by armchairs with wheels. The constant movement of hard wheels results in irregular abrasion, which has a negative effect on the look of the floor and the whole room. The most practical solution to this problem is using protective mats under chairs.
What are the advantages of using protective mats?
floor protection in offices and houses
prevention of irregular abrasion of wooden panels and floor coverings
retention of decorative properties of the floor
protection of spinal cord from excessive load
Properties:
Resistance to scratching and abrasion.
The mats are characterised by high resistance to scratching and abrasion, which of course does not mean they cannot be scratched. If the mats are used for a long time, their surface may have some scratches, but, after all, this is what they are used for - the mat may be destroyed but the floor remains untouched.
The backing of hard floor mats is often covered with a thin layer of polyurethane film. This layer increases the coefficient of friction between the mat and floor surface.
NOTE: Before installing smooth mats you should clean the floor thoroughly because the polyurethane layer is susceptible to mechanical damage (all hard particles remaining under the mat will damage the layer).
Mats for soft floors have a different design - they have a spike unit at the back, which you stick into the carpeting,
hence immobilising the entire mat.
Due to the material used (polycarbonate), protective mats are characterised by great stiffness and elasticity. Therefore, they adhere closely to the surface of the floor, preventing dirt from getting under the mat.
Thanks to the considerable transparency of the mat, it interferes in the pattern of the floor only slightly. The rough surface has been introduced on purpose, in order to facilitate the movement of chair wheels (it is easier to move on rough surface as smooth surface poses the risk of slip). 
 
 
 
Material

Protective mats are made of polycarbonates. This material is resistant to scratching and abrasion, and it is stiffer and more transparent than PCV.

Kinds of protective mats

smooth - designed for hard floors (e.g. wooden, laminated, ceramic) 
with spikes - designed for soft floors (e.g. carpeting)