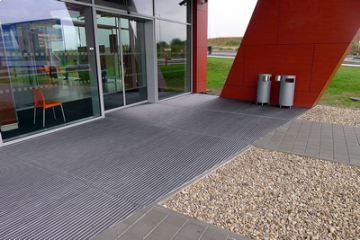 Heavy pedestrian traffic and the need to maintain good spacious harmony are convincing reasons for using extremely durable and tasteful system mats.

Manufactured by BP Techem, facility mats ensure cleanliness and safety in all places where durability and aesthetics count. They are perfect for public and civic buildings – shopping malls, offices, town buildings, hotels or hospitals – both inside and outside the premises.

Depending on the selected filling material – textile (drying function), rubber or brushes (cleaning function) or a combination of such materials, system mats develop their own unique features:

• ability to effectively dry and clean shoes from snow, sand and mud,
• wide range of working temperatures - from -40 up to a high of +70°C,
• excellent mechanical strength, wear resistance, waterproof and anti-corrosive properties.
Our aluminium mats are easy to maintain - you can clean them dry (with a vacuum cleaner), with wet cleaning machines or pressure cleaners. If in doubt as to which system to choose, please contact our team to help you select the most effective system for your facility.